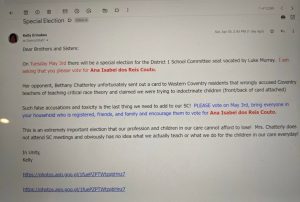 I am a concerned parent turned candidate for Coventry school committee. If you run against them, guess what happens? The highest level will call you a domestic terrorist while the teacher's union will accuse you of all sorts of falsehoods. The teacher's union sent out an email asking all teachers to vote against me. Why? Is this because I stand for the parents, the students, and American values?
How scared is Coventry and the Teacher's Union of me?
The answer is more than I thought. Their own candidate failed to stand on her own two feet in a recent interview, prompting this email asking for votes. Kelly Erinakes, the president of the Coventry Teacher's Alliance sent out this email to all teachers asking them to vote for my opponent.
Did I wrongly accuse teachers of teaching CRT or trying to indoctrinate our children?
Not at all. Per my most recent interview I said Coventry is NOT currently teaching CRT, however I agree with the mailer that I will oppose ALL efforts to teach our K-12 students any diverse race-based theory.
Kelly claims, I do not attend School Committee meetings.
Actually, I attend all school committee meetings via zoom. I attend via zoom as I have a difficult work schedule to accommodate for the outpatient therapy my special needs daughter has on a weekly basis. In fact, I had to ask for a special work accommodation to run for school committee as it does not align with my work hours.
Kelly also claims I have no idea what Coventry teaches or what teachers do for the children each day.
I do in fact understand what is being taught in Coventry Schools. I meet with educators frequently, and I am involved in the PTO as well as many volunteer opportunities.
Kelly, I would invite you to a discussion, as it appears you claim to know a lot about me even though we have never spoken. I support our teachers, the teacher's union, our parents, and our children. However, what I do NOT support is CRT, extreme sex based education, and shutting parents out claiming they are "domestic terrorists". I want more for our schools. I want to ensure teachers have what they need to create the best learning environment, that parents are heard, and that students are supported. I want to grow the enrollment of Coventry schools and improve our test scores which both have been declining in recent years.
In fact, if you would like to actually hear for yourself what I stand for, please listen to the replay of my most recent interview.