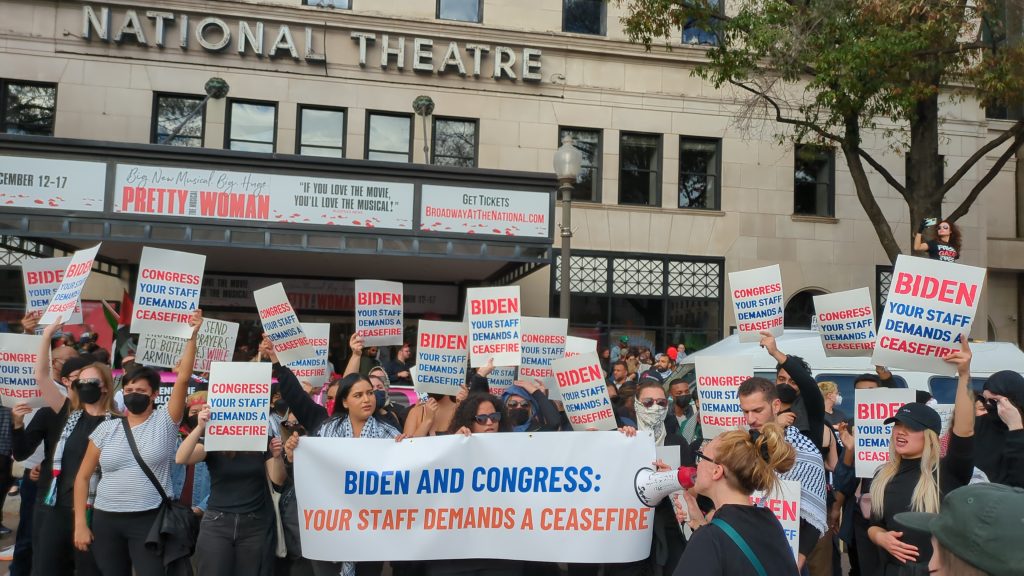 To be fair to Gabe Amo, the only reason he deserves to be singled out in particular for his morally bankrupt stance against a ceasefire in Palestine and Israel is because he is the Democratic candidate and presumptive runaway winner of the RI CD-1 congressional seat due to be decided on Tuesday. Otherwise, his completely spineless position, held with the full knowledge that Palestinian civilians are being slaughtered by Israeli airstrikes at an astonishing rate – a bombing campaign multiple international human rights organizations and experts including the recently resigned director of the U.N. High Commissioner of Human Rights New York office have described as genocidal in both scale and intent – is so standard in Washington D.C. that it hardly merits mention.
In fact, Amo's complete lack of even the most basic pretense of concern about clear human rights violations as Palestinian civilian death tolls from Israel's relentless airstrikes approach 10,000, including an astounding 3,700 children and 36 journalists, makes him the perfect candidate for upholding the Democratic party's status quo in Washington and puts him in squarely in line with Representative Seth Magaziner, Senator Sheldon Whitehouse and Senator Jack Reed. It is mind-boggling that a man who is going to walk into a congressional seat with no serious challenger and a rolodex full of high-level beltway contacts still can't take it upon himself to hold a basic moral position against the brutal slaughter of the innocent.
Amo, who worked on domestic policy for the Obama and Biden administrations but is clearly no foreign policy guru, said on Bill Bartholomew's podcast last Monday that he is actively against a ceasefire at this time. He followed that up immediately with the incongruous statement that the United States should do "every single thing it can do to protect civilian life." Every single thing except push for a ceasefire apparently, which some observers including myself think would be included on the list of every single thing the United States can do.
Amo, who hews to the Biden administration's official line on Israel so closely that incoherence is nearly inevitable, then meandered his way to a vague, tepid endorsement of the long-dead concept of a two-state solution, completely overlooking the facts on the ground of over 700,000 heavily armed Israeli settlers living on illegally occupied Palestinian land in the West Bank in an abstract political non-answer to a question Bartholomew never asked him to begin with. Palestinian civilians in Gaza were being bombarded while he gave the interview, as they are being bombarded now while I write.
Amo said to Bartholomew the Israelis need to keep up the brutal assault lest Hamas gain some sort of advantage or chance to regroup while the Palestinian civilians in Gaza seek shelter for their surviving children and try to dig their dead relatives' corpses out from under the rubble of destroyed homes and hospitals with their bare hands.
In his televised debate with Gerry Leonard, an unserious candidate who would likely back a Trump nomination and whose views on the situation in Israel are even less humane than Amo's – something of an accomplishment given how little Amo appears to care that innocent Palestinian people are being indiscriminately blasted into oblivion by the Israeli military at a rate unseen in my lifetime – he magnanimously revised his position to advocate for a "humanitarian pause," but only to get Israeli hostages back.
Only the governments of Israel, the United States, and a few smaller countries which are clearly seeking to curry economic favor with the two military-industrial nuclear superpowers (Austria, Croatia, Czechia, Fiji, Hungary, Guatemala, the Marshall Islands, Micronesia, Nauru, Papua New Guinea, Paraguay and Tonga all joined Israel and the U.S. in voting against a ceasefire in the United Nations) are currently advocating for continued airstrikes against a completely vulnerable civilian population in the hopes of extracting political concessions. Of course the Israeli hostages should be freed, but it is unclear to me what sort of consistent moral values could lead to any call for a humanitarian corridor and evacuation of Israelis and other non-Palestinians while intentionally and adamantly excluding Gaza's own civilian population. Why is an immediate ceasefire and humanitarian aid for all civilians not considered the most obvious, moral and common sense position here? Why are Palestinian civilians somehow inherently unworthy of being included?

In contrast to Amo and the majority of the Democratic party's shallow and callous position, a senior State Department official named Josh Paul resigned on October 18 from his role as director of congressional and public affairs at the Bureau of Political-Military Affairs in protest of the Biden administration's decision to transfer arms to Israel despite knowing the munitions would be used to massacre civilians.
Paul's job at the time of his resignation was to oversee the transfer of U.S. armaments to Israel and other American allies. He had been with the department for over 11 years and at the time of his resignation was, in his own words, "the top official at the U.S. Government entity most responsible for the transfer and provision of arms to partners and allies."
Here is an excerpt of Paul's resignation letter, the full text of which is worth reading (bold is my emphasis):
"Let me be clear: Hamas' attack on Israel was not just a monstrosity; it was a monstrosity of monstrosities. I also believe that potential escalations by Iran-linked groups such as Hezbollah, or by Iran itself, would be a further cynical exploitation of the existing tragedy. But I believe to the core of my soul that the response Israel is taking, and with it the American support both for that response, and for the status quo of the occupation, will only lead to more and deeper suffering for both the Israeli and the Palestinian people – and is not in the long-term American interest. This Administration's response – and much of Congress' as well – is an impulsive reaction built on confirmation bias, political convenience, intellectual bankruptcy, and bureaucratic inertia. That is to say, it is immensely disappointing, and entirely unsurprising. Decades of the same approach have shown that security for peace leads to neither security, nor to peace. The fact is, blind support for one side is destructive in the long term to the interests of the people on both sides. I fear we are repeating the same mistakes we have made these past decades, and I decline to be a part of it for longer."
It is not entirely clear what foundation of knowledge Amo has based his logically incompatible simultaneous anti-ceasefire and anti-violence view on, but Paul explained in his letter that his position is based on a lifetime of academic and professional engagement with Israel and Palestine: he wrote his master's thesis about Israeli counterterrorism and civil rights, and early in his career lived in Ramallah in the occupied West Bank of Palestine while working for the U.S. Security Coordinator, a role he described as "advancing security sector governance within the Palestinian Authority and liaising with the IDF," a role which left him with "deep personal ties to both sides of the conflict."
I leave it up to the reader to decide which man has a more thorough understanding of the issues at play and thus might be better able to draw a reasonable and serious conclusion about whether or not a ceasefire is a good idea, though I will say as a fluent Arabic speaker who has lived in the occupied West Bank of Palestine for two years myself, not to mention lengthy stints in Jordan and Iraq and visits to Egypt, Lebanon and Syria, as well as a rational human being who thinks incessant airstrikes on densely populated refugee camps and other civilian population centers go against some basic rules of human morality, I am inclined to go with Josh Paul on this one. My one request of Gabe Amo, who has lost not only my vote but also my respect, is that after he gets elected he not let a single word about human rights escape his lips for the duration of his two year term in Congress as he clearly does not believe in upholding them.
Zane Wolfang is an independent journalist from Warren, Rhode Island. Fluent in Spanish, Arabic & English, Zane has lived & reported from Lebanon, Jordan, Syria, Palestine, Iraq, Egypt & the UAE. His work has appeared in the Providence Journal, the Newport Daily News, the Providence Business News, East Bay Newspapers & multiple outlets overseas. He was the recipient of 2021 Kathryn Davis Fellowship for Peace at Middlebury Arabic School and a 2022 New England Institute Fellowship. Support Zane's work at https://ko-fi.com/zanewolfang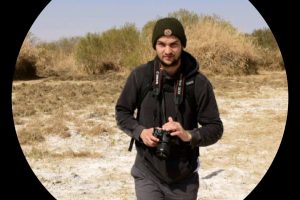 Zane Wolfang joins The Coalition Radio Network's emerging Foreign Policy Effort to cover the Middle East North Africa (MENA) region with specific expertise in autonomous and semi-autonomous non-state regions, migration and refugee issues, and empathetic coverage of non-western cultures.